WAKA soPro PA10000
Sale price

CAD $34.99

Regular price

Unit price

Translation missing: en.accessibility.unit_price_separator
Subscribe to WAKA Email and get 10% off your next order!
Specifications
Rich raspberries are infused with a subtle hint of sweet watermelon, finely balancing the tarty berries. This tasty blend sweetens the palate while delivering a refreshing chill around the mouth.
This aroma is packed with the refreshing icy taste of watermelon. A hint of mint is twisted into the juicy flavor to provide a very cooling edge to sweet notes—a real summer fusion.
This flavor fizzes with sweet apples, like a vaporized twist on a classic drink. Every puff bubbles with zesty sour-apple notes, popping at the end with a refreshing chill. A familiar taste with an icy twist.
This aroma is jam packed with the taste of rich cherries. Zesty notes of sweet and sour ignites the taste buds, before giving way to a juicy burst of natural cherries.
Sweet, sour, and infused with ice, this grape and apple blend delivers a delightfully layered aroma. A single puff delivers a cooling blast of sweet apples and sharp grapes. This is a multilayered delight.
An orange, berry, and apple mix pops with a tangy hit on the tongue. A mix of chewy delights!
Service
Free shipping on orders above CAD$49 via FedEx.
Adult signature required on delivery.
The price displayed doesn't include taxes. And the delivery payment may still be required upon checkout at the applicable sales rate according to your shipping address. See Details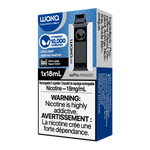 Sale price

CAD $34.99

Regular price

Unit price

Translation missing: en.accessibility.unit_price_separator